AngelHousePress presents the Small Machine Talks
an ongoing conversation about art & literature &
duende
queerness
coping
tea
borderblur
misfits
community
secret places
ragged edges
whimsy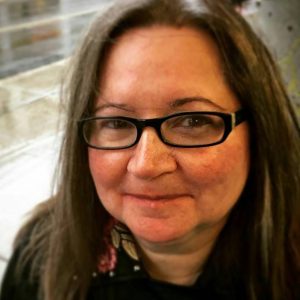 Amanda Earl is a Canadian poet, prose writer, visual poet, editor and publisher who lives in Ottawa with her husband Charles.
The Small Machine Talks began in 2016 with co-hosts a.m. kozak and Amanda Earl to explore the poetry scene in Central Canada and beyond. The challenges of having to social distance in 2020 due to the pandemic have led to a need to forego in person interviews and move to a virtual platform. Amanda has rethought the goals and scope of the Small Machine Talks in light of these challenges.
One of the changes is The Small Machine Talks Theme Song! Another is that Amanda has decided to host the show on her own. I am grateful to the contributions of a.m. kozak over the last 4 + years and wish him well.
We particularly welcome the voices of women, BIPOC, 2SLGBTQIA, D/deaf and disabled, and gender non-conforming creators. We have a zero tolerance policy for harassment, and for hate speech. We won't tag contributors on social media without their permission and if we see hateful responses to them, we will report the perpetrators.
The Small Machine Talks acknowledges that we operate on traditional and unceded territory of the Algonquin Anishnaabeg people.
Listen to the Small Machine Talks here or on your favourite podcasting app.
Connect with Amanda on Twitter @KikiFolle to discuss the shows or leave a recorded message on speakpipe  see below and we will play it on the show.
Theme Song – written by Amanda Earl with music by Jennifer Pederson, sung by Amanda and Jennifer.
Sound engineering: Charles Earl
Intro and Outro Composer – Jennifer Pederson
This podcast is an AngelHousePress production.
Sound Engineer and Site Designer – Charles Earl