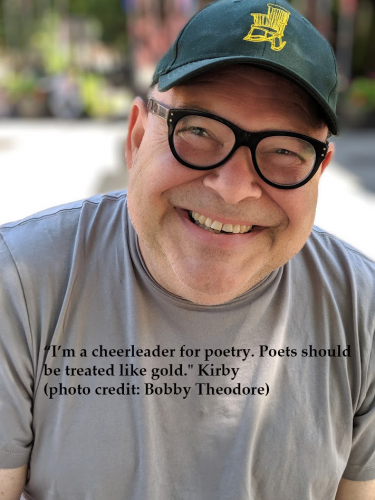 The Small Machine Talks Episode 27
with Amanda Earl and a.m. kozak
Interview with Kirby
Recorded on January 9, 2018
Patty's Pub, Old Ottawa South
Before a featured reader appearance at the Tree Reading Series on Tuesday, January 9, 2018, I speak with Kirby at Patty's Pub in Old Ottawa South. Over pints and truffle fries we speak about Kirby's journey into writing, and the evolution and future of Knife, Fork, Book, Canada's only poetry book store, the press and wQr imprint with editor Fan Wu, printing at Coach House, erotica, AIDS activism, gratitude, praise, the poet Hoa Nguyen, double entendres, reading poetry in public about taboo subjects and the importance of knowing one's audience, readings in bathhouses, rejoicing in the body, the positive energy of Knife, Fork, Book.
a.m. kozak couldn't be with us alas and was very much missed.
What a great experience chatting with this visionary poet, publisher, bookstore owner and friend.
Links
Knife, Fork, Book – https://knifeforkbook.com/
Tree Reading Series http://treereadingseries.ca/
[a video of the reading will be posted on the Tree site soon]
A Cocksucker's Prayer – https://jeffkirby.bandcamp.com/releases
Rusty Toque, Issue 13 http://www.therustytoque.com/poetry-jeff-kirby.html
Northern Exposure: Jeff Kirby's A Builder of Homes for Books and Readers in Toronto in Boog City https://boogcity.com/boogpdfs/bc111.pdf
Hoa Nguyen – http://www.hoa-nguyen.com/
Thanks to Charles Earl for processing this recording, to Jennifer Pederson for intros and outros, to Kirby for the great interview and to all of you for listening and sharing the podcast with poetry enthusiasts everywhere.
Stay tuned for the next episode!