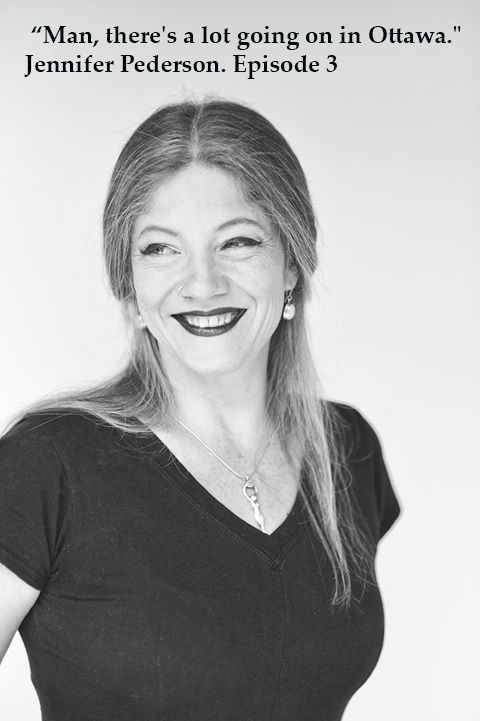 The Small Machine Talks, Episode 3
hosted by a.m. kozak & Amanda Earl,
with special guest, Jennifer Pederson
Recorded on Sunday, September 4, 2016
We explain the name of the podcast. Anne Carson's influence. Jennifer talks of Eliot, Ginsberg and Ottawa poets. Jennifer tells us about a brand new initiative for Sawdust. You'll have to listen to the podcast to find out what. We learn about the rationale behind the Sawdust Reading Series Poem-Off contest and Sawmills, the workshop addition. We talk about how to foster a sense of community, the literary scene's book culture. We talk about the importance of space, layout, sound, venue in setting the tone of a reading.
Amanda praises The Sawdust videos that Jennifer creates. We discuss sound vs form. We debate the distinction between poetry and music, the musicality of poetry.
She mentions her participation in the AngelHousePress Close Reading Service for New Women Poets. Jennifer talks about the importance of the way the poem looks on the page.
Jennifer discusses her hotel fetish and its connection to a new poetry project.
We discuss the economy of Jason Christie's poetry, the lattice-work of Frances Boyle's poems at Sawdust. We welcome back the Tree Reading Series with a new venue. We celebrate the return of Plan 99, a reading series for contemporary Canadian literature that takes place at the Manx Pub, the darling of literary types, and not just because it lacks big screen tvs. We mention the Puritan's new summer issue. We talk about our upcoming Tree workshops.
We feature Commonplace: Conversations About Poetry and Other People, Rachel Zucker's WTF-style podcast. We discuss duende and Claudia Rankine. Preparation vs winging it in podcasts. We talk about the Maynard, an online poetry journal created by students of Simon Fraser University. Aaron shows off two recent poetry book purchases from a Kingston used book store. We ooo & ahhh. We drink water but wish we were drinking beer.
We list upcoming and past events in Ottawa, Toronto, Montreal, Barrie and Peterborough. We attempt to figure out the meaning of the word "wayzegoose" and wish we could attend one. We decide Ottawa needs a Word on the Street festival. We list upcoming calls for submission. Amanda urges everyone to submit to Bywords.ca, which is experiencing a submission lull. We forget to mention the upcoming In/Words reading on Wednesday, September 28 at the Clocktower Pub, featuring Suzanna Derewicz.
We commend Perfect Books, a wondrous bookstore on Elgin Street, for extending its poetry selection and for top-shelfing Ottawa poets. We thank you listeners, each other and our sound engineer Charles. We agree to reconvene in early October for Episode 4 with a new guest. We fail to thank those of you who share the link to our podcast on social media, so we're thanking you now!
Index
Introduction (0.00)
Jennifer Pederson interview (01:55)
Recent Events (27:00)
Internet Round Up/Recent News (43:37)
Podcast: Commonplace (46:30)
The Maynard (49:55)
Current Reads (57:05)
Upcoming Events/Calls for Submission (1:02:25)
Links
Bywords.ca – News / Calls for Submission
Gruff Rhys: Hotel Shampoo
Ontario Arts Council Writers Reserve Program
Bagley Wright Lecture Series on Poetry : Dorothea Lasky
Dorothea Lasky: "What is Color in Poetry or Is It The Wild Wind in the Space of the Word?" – 2013 The Bagley Write Lecture Series on Poetry, excerpt in Poetry
Mentions:
i-view
Sawdust
Slackline
Gary Barwin
Pour Boy
Tree
Steven Ross Smith
In/Words
Blue Mondays
Caroline Bergvall
VerseFEST
Jennifer Londry: Life and Death in Cheap Motels, a collaboration with R.D. Roy
recent events
Jason Christie
Frances Boyle
In/Words
Tree
James Moran
Jennifer Mulligan
Ontario Arts Council Writers Reserve Program
Jennifer Mulligan
Emily Ramsay
Venus Envy
Arc Poetry Magazine
Justin Lam
Doug Dumais
Ian Martin
Blue Mondays
Emily Stewart, Ottawa Arts Review
Factory Reading Series – Jenna Jarvis
the Carleton Tavern
Urban Legends
House of Paint
Metatron
Facilitate
Common Readings
Ashley Elizabeth-Best
Coach House
Recent News
Tree
Plan 99
David O'Meara
the Manx Pub
the Puritan
Podcast
Rachel Zucker
Claudia Rankine
Raoul Fernandez
Vallum
BookThug
Mallory Tater
Amie Whitmore
B.J. Best
Dorothea Lasky
Current Reads
Rhonda Douglas
Black Moss Press
Calls for submissions, upcoming events
Canthius
Gillian Sze
Poetry is Dead
Urban Legends
Prufrock Shadowrunner
above/ground press
Resonance Reading Series
Pivot
words on stages/parenthetical
Word on the Street
Perfect Books