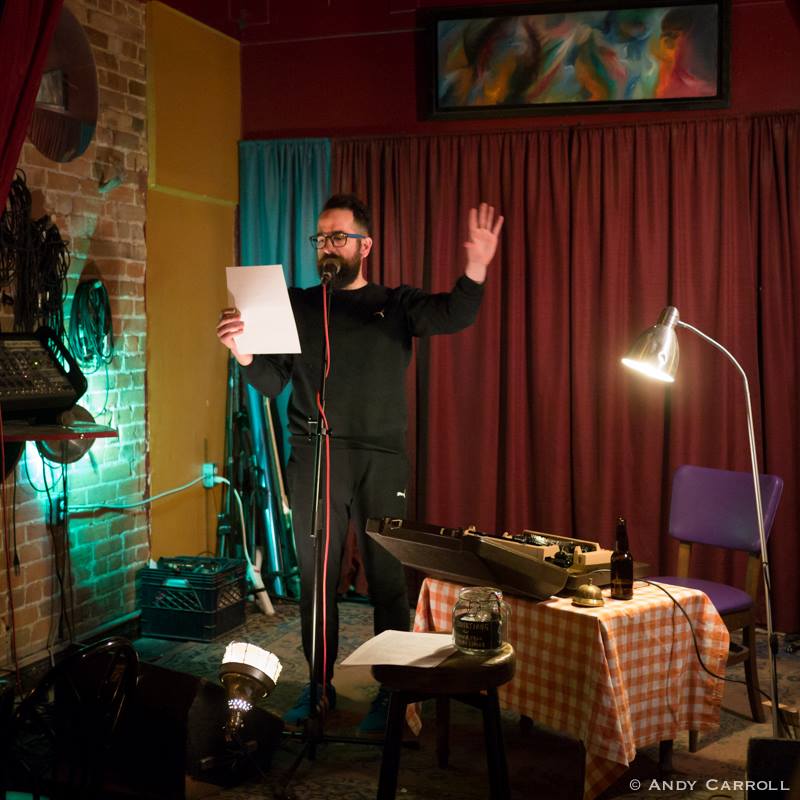 THE SMALL MACHINE TALKS 5th season opener
Hosted by Amanda Earl and a.m. kozak
EPISODE 62 – INTERVIEW WITH JUSTIN MILLION
Recorded on Sunday, July 12, 2020 at 3pm over Zoom
Justin Million is the curator of the Show and Tell Poetry Series, and is a co-founder and the current poetry editor of bird, buried press. Million has been published in countless journals, chapbooks, ephemera, and online magazines. He lives in his hometown of Peterborough, Ontario with Elisa Rubacha, Nutmeg and their twelve typewriters. His book, EJECTA, THE UNCOLLECTED KEYBOARDS! POEMS, was recently published by Apt. 9 Press.
We open the new season with an interview with Justin Million, whose first trade poetry book, Ejecta, is now out with Apt. 9 Press. The book is based on his show, KEYBOARDS!, which took place at the Garnet bar in Peterborough. In a one-person show, Justin would compose poems on a typewriter at the bar and let them be taken by members of the audience.
Thanks to Justin for being our first guest in Season 5, to a.m. kozak for co-hosting, to Charles Earl for processing and to Jennifer Pederson for Intros and Outros. Thanks to you for listening and sharing.
Stay tuned for the next episode. Upcoming guests include Dani Spinosa and Sachiko Murakami.