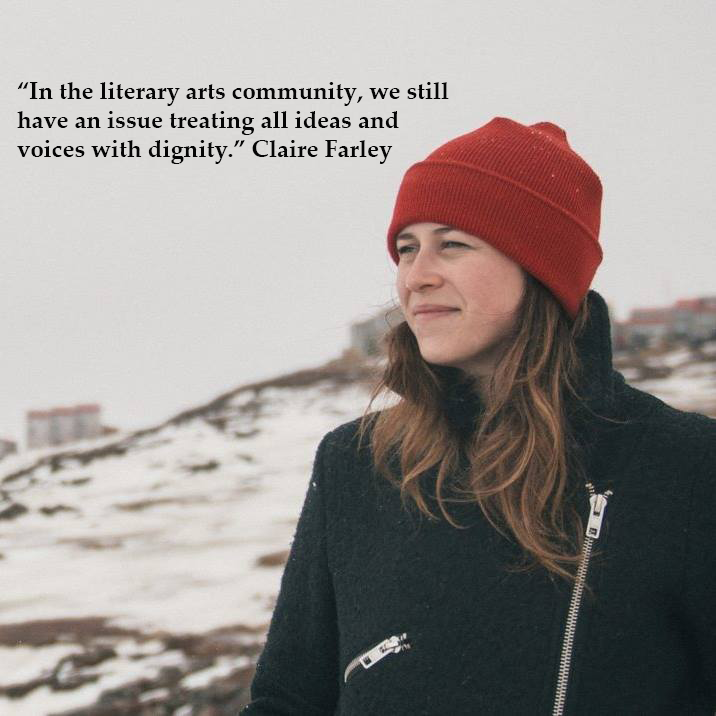 We talk to Claire Farley about her poetry and editing duties and the mandate for Canthius, a feminist magazine exclusive to women and nonbinary contributors. We discuss expansive and inclusive feminism. We talk about the role of alcohol in the creation of any literary endeavour, passion projects, magazine as community. We talk about the idiosyncrasies of poets' layouts, the joys of the launch, non-traditional spaces used for art. Claire talks about the editorial process and working with members of the board (Puneet Dutt and Chuqiao Yang) and with Cira, her co-editor. Aaron wonders about the reasons for putting out a print vs digital magazine and discusses the problems with print in terms of materialism and accessibility. Claire talks about the physical journal as an art object.
We discuss the impact of publishing on Claire's writing and the importance of her academic studies. Claire talks about the confluence of theory and poetry in the work of Erín Moure and Lisa Robertson. Claire mentions writers who are also able to work as critics, such as Erin Wunker and Larissa Lai. Claire discusses the inherent politics of language and her former job as a political writer.
Claire talks about the goals for Canthius; the funding of its third issue via Indigogo; her goals as a writer, including having a chapbook published. We talk about the fear that comes with having our work published and the validity of doing so. Aaron worries about taking up too much space as a white male as a performer.
We talk about influences, including Leonard Cohen, Joni Mitchell and John K. Sampson, lyric poetry, poetry of the everyday, Dale Smith's Skanky Possum Press, The Language of Inquiry by Lyn Hejinian and how she brings poetry and poetics together. Claire talks about her master's thesis on Don McKay's scientific vocabulary, Charles Olson's view of poetry as a saturation job. We talk about the unattainable sense, the perfection that comes from lyric poetry. Claire talks about composition as a thinking through process.
We discuss Claire's poems of place/space, her being an Anglo Quebecker, poetry as a public activity, politics in poetry, instability, the privilege of place and its socio-economic role, colonization, a revelatory trip to Iqaluit, being a white settler, weighing guilt with action, Canada's appropriation of the image of the North.