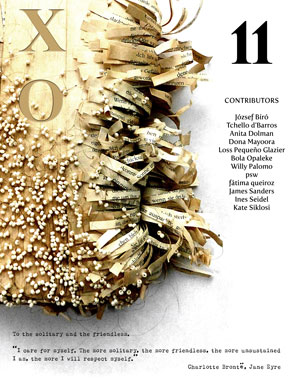 Welcome to the Small Machine Talks. I'm Amanda Earl and this is episode 60, the second part of our segment featuring contributors to Experiment-O. Since I talked about the magazine in the previous episode, I won't repeat too much, except to say that it is an online pdf magazine that celebrates the art of risk through poetry, prose, visual art, visual poetry and uncategorizable work or hybrids.
Every year I look out for possible contributors by reading publications and paying attention to the work that comes through my social media feeds. I also receive the occasional unsolicited submission for consideration.
NationalPoetryMonth.ca is also a good source for potential contributors. In June I invite 10-12 people to send work for the magazine, which comes out in November every year.
In September I do the initial layout in In Design. I'm terrible at In Design, so I'm just basically putting everything in: the pieces, captions if necessary, the bios. Then sometime after that Charles, who is a wonderful designer and seems to know how to handle In Design's eccentricities, makes everything beautiful. Layout is tricky when you combine art and visual poetry with poetry and prose.
We always send each contributor a pdf proof to ensure we have the work and their bios and their names exactly right. I make awful spelling errors with names. It's embarrassing but seems to be worsening as I age. I cut and paste when I can, but it isn't always possible.
We often have over 100 pages of content. I really appreciate all of those who've entrusted us with their work.
I hope you visit the site to check out our 12 issues so far. If you're interested in sending work for consideration, please feel free to give me an e-mail query at amanda@experiment-o.com.
This time we have 6 readers: Anita Dolman, Sanita Fejzić, Jennifer LoveGrove, Sandra Ridley, Chris Turnbull and Ewan Whyte . I hope you enjoy their poems. And if you do, seek out their work and buy it or get it from the library, once libraries are back. [A reminder that the spacing of the poems here may not reflect the spacing of the actual poem; WordPress does weird things with formatting.]
Our first reader is Anita Dolman
Poet, editor and writer Anita Dolman is the author of Lost Enough: A collection of short stories (2017), co-editor of Motherhood in Precarious Times (2018), and author of two poetry chapbooks. Her work has appeared in numerous magazines and anthologies, including Imaginary Safe House, Bywords.ca, Arc Poetry Magazine, On Spec, Triangulation and Grain. She is an advocate for bi/pan+ rights and mental health. Anita was in issue 11. Anita will be reading "Let me tell you something, sweetheart, Or, Dear capitalist", which was originally published on Collective Unrest, November 20, 2019, San Diego, California, USA.
RECORDING 1: ANITA DOLMAN
the next reader is Sanita Fejzić is a Bosnian-Canadian poet, novelist and playwright. Her CBC-shortlisted poem "(M)other," has just been published as a children's story by the same title as well as as a translation, Mère(s) et monde. Fejzić has had her poetry and short fiction published in literary magazines and journals across Canada. Her first novella, Psychomachia, Latin for "Battle of the Soul," appeared as an excerpt in Experiment-O. Fejzić is presently completing her PhD in Cultural Studies at Queen's University. To catch up on her work, check out her website: www.sanitafejzic.com. Sanita was in issue 10.
RECORDING 2: SANITA FEJZIĆ
It's the end of the world
& we can't even gather together
alone: isolated: panicked
life, as if eclipsed by a prolonged longing
time suspended, hanging by a hair
off a crumbling ceiling.
On this Friday the 13th,
a boy in 4th grade makes face masks
with paper towel and thick pink elastics
before school closes for three weeks.
A mask for each parent & child
as we play our parts in the global
pandemic of paranoia
aired 24/7 through waves and wires.
When the last Act arrives
before the curtains drop
the public, aroused by shared catharsis
will have been changed
epiphanied: the end was revealed
to be a new beginning:
after decades of factory fumes and traffic buzz
bird melodies and haze-free skies
across empty squares, song
swing and waltz on livened balconies.
Coronavirus has staged
the most monumental tragedy:
the death of the separate & autonomous individual
& the re-membering of a new humanity
not almighty and deadly
but dangerously vulnerable
humbled
by a zombie-like microscopic thing.
Our third reader is Jennifer LoveGrove
Jennifer LoveGrove is the author of, most recently, the poetry collection Beautiful Children with Pet Foxes (Book*hug, 2017). Her novel Watch How We Walk was longlisted for the Scotiabank Giller Prize, and she also wrote the poetry collections I Should Never Have Fired the Sentinel and The Dagger Between Her Teeth. She is currently at work on another novel and a poetry manuscript currently nicknamed The Tinder Sonnets. She works at the University of Toronto, and divides her time between downtown Toronto and rural Ontario, Canada.
While Jennifer doesn't have work in Experiment-O, she is a friend to the Small Machine Talks who I interviewed for one of my favourite episodes, Episode 29 in Season 2, which I've mentioned already in previous episodes.
RECORDING 3: JENNIFER LOVEGROVE
That time you made me a flow chart of our relationship: a sonnet
Did your father betray your mother? If
yes, press the elevator down button.
If no, feel the wind rush past you on this
balcony. Marvel at the city's gloat.
Did your father betray his wife with your
mother? If yes, press send. If no, delete.
Did your father betray you? If yes, press
your palms to my throat. If no, press and hold
until light comes on. Yes yes yes. Caution:
broken road. Is this a clay mask, or is
it really just mud? If yes, recall what
we'd planned: two museums, a photo shoot,
anal sex. If no, press your boots down hard,
splash away every puddle on this road.
Second variant
Did your father betray you? If yes, press
did your father betray your mother? If
balcony, marvel at the city's gloat.
Splash away every puddle on this road
until light comes on. Yes yes yes. Caution
it really just mud. If yes, recall what
did your father betray? His wife with your
yes. Press the elevator down button.
We'd planned: two museums, a photo shoot,
broken road. Is this a clay mask, or is
mother? If yes, press send. If no, delete
anal sex. If no, press your boots down hard.
If no, feel the wind rush past you on this
your palms to my throat. If no, press and hold.
Third variant
Did your fault betray your motif? If yes,
price this drachma accordingly. If no,
watch the suburbs rut past you as you rush
downtown. I was at the Horseshoe with D—,
he kissed my shoulder then confessed he was
reading my novel. Did your fault betray
your assumptions? If yes, price shy. If no,
tax the sky in breath. My phone off, you'd called
and texted for hours. Did your fault betray
your patterns? If yes, price lemongrass price
cilantro. If no, price the siblings you
were not allowed to know. This will become
your legacy. I'm a clean masochist
I suck out my own splinters, and spit back.
Sandra Ridley lives and writes in Ottawa. Sandra was in the first issue of Experiment-O
She's reading In Praise of the Healer
RECORDING 4: SANDRA RIDELY
In Praise of the Healer
Swallow the word.
Swallow the tongue.
Swallow down
the fullness in the throat.
Eclipse the eye of the dark.
Open the mouth.
Breathe you in.
Hold the breath.
After the long sought
reckon—
surrender.
Say, with my body I thee worship.
Of course
the inevitable
rupture in my chest
from the heart's opening.
Courage—
stay in my arms
until
you can't.
Our next reader, Chris Turnbull is the author of Continua (Ottawa: Chaudiere Books 2015; Picton: Invisible Publishing 2019) and [ untitled ] in o w n (Vancouver: CUE Books 2014), one of a trio of poetry books alongside work by Heather Hermant and angela rawlings, respectively. Her recent chapbooks include Undertones, a collaborative chapbook with text/artist Bruno Neiva (Low Frequency 2019), and "contrite" (above/ground
2019). Turnbull's other work is off the page, as installations exhibited in landscapes or manifested outdoors. Her work can be found online, in print, and within landscapes. She curates an ongoing, site specific
footpress, rout/e, whereby poems are planted on trails: www.etuor.wordpress.com.
RECORDING 5: CHRIS TURNBULL
Chris Turnbull preamble: I'm reading from "cipher", which is the third chapbook in a series. It was preceded by Candid (dusie kollective #8) in 2014 and contrite (above/ground) in 2019. All three are terrain poems in a period of time that is sketchy for reference. Candid explores a post-norm world (which was true when it was published in 2014) of individuals who are without a recognizable compass, where land is uncertain, forest and city are constructions that are suspicious, with zones of safety and excuse and liberation. Candid is incongruous. contrite follows Candid. Individuals are multi-locative but realize themselves as a 'we' that they construct; they refuse obvious detachment. They are self-organized, seemingly autonomous but in some ways gravitate toward commonalities and groupings. A central figure, "The Curator", resists categorizing them but cannot quite avoid mentoring, fearing, and hiding from them. "cipher" picks up from contrite and Candid – it virtually describes a kind of barren surfeit. Thank you to Amanda Earl for inviting this reading to Small Machine Talks as part of Experiment-o. [Reads from "cipher" I, II, III]
cipher
I
Compelled to get into the guts,
the Canoeist shimmers sideways to shore in a resonant echo-chamber,
with terrible resplendence.
The kids yell: Booey for the Canoeist!
The Curator is in limbic distress, jammed between the trailer wall and its lone filing cabinet, musculature spasming
each time a water bottle hits the trailer's corrogated metal roof.
The kids yell: Hurrah for the Curator!
From the rise, this distance beyond shore, the kid screws one eye shut and flings
a perfect pebble at the hut's facing window; it's a through-and-through.
The kids in unison: There was never such a perfect smirk!
A perfect pebble is returned, catapults,
a propellant of text, sending
landing
suppositions
to drift
II
say, infrequency with
fringed awareness: lapping
frigidity to finish
an outskirted thought:
"left a note"
the littoral zone
green
superfine tendrils
cling
edge recedes,
receives
touch-feathered
foam clouds
dull
shard
shell
dust
difficult to pinpoint
in dispersal
III
Make for the most loosely imagined beach or forest or campfire ring or blank screen:
Punch in the code.
and for scale
fluid over
canopy
borders
cliffs
garden stake
prairie
huts
threat
mountain
cavern
suburb
flag
house
work
love
wrecks
government
street
dismay
graves
airfields
deserts
babies
hospitals
sermons
institutions
lovers
friends
caution
shoes
teeth
soil
rock
letters
roots
immunities
sinkholes
and rims and moss take 5.
Our final reader, Ewan Whyte is a writer and translator. He has written for the Globe & Mail and The Literary Review of Canada. He is the author of Desire Lines: Essays on Art Poetry & Culture, Entrainment, a book of poetry, and a translation of the ancient Roman poet Catullus. Ewan was in issue 6.
RECORDING 6: EWAN WHYTE
Guiraut Riquier: The Last Troubadour
How bleak must have been
the long dangerous journeys
between towns and courts
which gradually lost interest
in your elegant art.
Influenced from the east
but transformed by the medieval western
obsession of individual experience.
For us now, your world is utterly gone,
disappeared with the figures and colours
in the illuminations of your time.
Your mastery was widely imitated
before it slowly went unnoticed
in your lifetime. Your main audience
should have been the Gnostic Cathars
and Albigansians that stretched
across Occitania, (which became southern France),
into Spain, through northern Italy
into Bosnia and the Balkans.
They supported the early troubadours
and shared some of their values.
You were fourteen when their great
stronghold of Montsegur fell
in the final brutal crusade against them.
You would have heard living accounts
of how over two hundred Cathar Perfects
were burnt alive in an enormous fire
near the prat des cramats at the foot of the castle.
Of that time, Arnaud, the Cistercian abbot who was
a commander in the crusade , wrote to Pope Innocent the third.
"Today your Holiness, twenty thousand heretics
were put to the sword, regardless of age, rank, or sex."
The older surviving Cathar sympathizers
were a large part of your audience.
They still admired the troubadours, but they
slowly died off and you lost your patrons
For a while you worked as a poet
for Almarich the fourth, Viscount of Narbonne
but you were not fully recognized.
At forty you crossed the Pyrenees
and worked as a poet for Alfonso the tenth
for ten years. Later you crossed back
over the Pyrenees and wrote for Henry the second
Count of Rodez, who gave troubadours protection.
but times had changed, court entertainers
could sing the poems and songs
of the troubadours and do juggling tricks as well.
Creation of original troubadour poems
became superfluous and you found no new patrons.
In the regional economic decline you moved back
to the town of your birth and found
employment writing religious poetry.
No longer could you write of latent mysticism
in the Gnostic language of god as all forms of love.
The world had changed. The Catholic Church
had won and dissent was no longer an option.
Jongleurs and minstrels called themselves
troubadours. And the troubadours were no more.
In your last known poem you wrote:
"I remember my difficult past, I look at the merciless present,
and when I think of the future, I have true reason to weep.
I will have to stop singing… for truly I came too late."
Thanks to the readers, to Charles for processing, to Jennifer Pederson for Intros and Outros and to you for listening and sharing. We have enough recordings to do a third episode from Experiment-O contributors. Stay tuned!