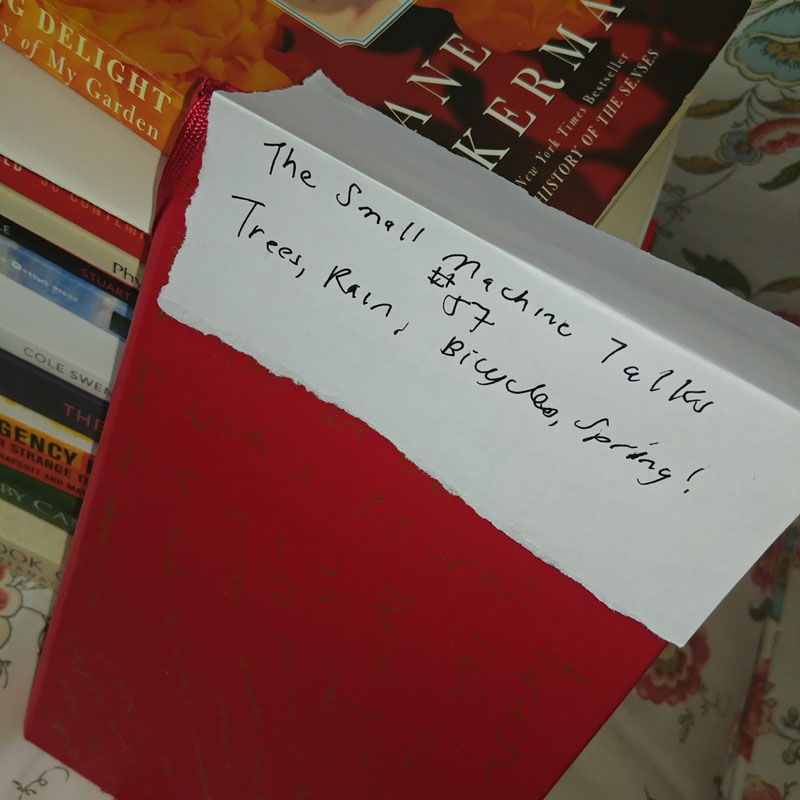 I open the episode with a reading of an excerpt from Samuel Beckett, Watt (Olympia Press, 1953).
Good morning and welcome to the Small Machine Talks Episdoe 57. I'm alone again, recording the episode solo due to Covid-19's physical distancing requirement. At this time, I find myself seeking out some of my favourite poems about trees, rain, bicycles and spring.
This episode is inspired by Klara Du Plessis' deep curation practice of organizing readings. I had the pleasure of being at an event at Knife Fork Book in Toronto which Klara organized, based on the idea of deep curation, "placing work by the same and different artists adjacent to one another in order to combine their generative potential." The event featured Klara, Aaron Boothby and Canisia Lubrin reading their own works but ones that Klara had picked out.
It was a really interesting reading organized in a kind of thematic way. To quote Klara, "The strength of considering how artworks or poems go together, enter into dialogue with another, rub up against one another, contrast and scratch at one another…is endless."
https://periodicityjournal.blogspot.com/2020/04/klara-du-plessis-deep-curation-factory.html
The poems and prose passages I'm going to read today follow this idea or at least are inspired by it. And instead of others reading, it's just me.
Doyali Islam, 32nd parallel – on roots
from heft, McClelland and Stewart, 2019 and also Heartwood, Poems for the Love of Trees put out by the League of Canadian Poets in 2018
Variations on Spring – Maggie Helwig, the City on Wednesday, Lowlife Publishing, 1996
MOVIE: Frances Ha
I love Greta Gerwig. I also have a terrible memory for what happens in movies. What I recall about this one was Frances riding her bike and wandering Paris on her own. I have also seen Girl on a Bicycle, which I do not remember at all. Another charming Montreal film called Deux Secondes about a bike courier who wants to compete in the Tour de France is also good. I would like to watch Wadjda, a movie set in Saudi Arabia about a ten-year old girl who wants to ride a bike.
Green by Jeanette Armstrong (originally published in Breath Tracks, Theytus Books, 1990)
Open Field, 30 Contemporary Canadian Poets, edited by Sina Queyras (Persea Books, 2005)
Sadiqa de Meijer
Yes,
I googled and found this poem on Susan Gillis blog, Concrete and River: https://susangillis.blogspot.com/2013/11/normal-0-microsoftinternetexplorer4.html
from 2013, republished from Leaving Howe Island, Oolichan Books, 2013 and republished in The Next Wave, An Anthology of 21st Century Poetry, edited by Jim Johnstone and published by Anstruther Press in 2018
Phyllis Webb, Metaphysics of Spring from The Vision Tree, Selected Poems (Talonbooks, 1982) and originally published in Wilson's Bowl (1980)
Film: Les glaneurs et la glaneuse (the Gleaners and I – Agnes Varda)
Varda's documentary begins with a glimpse at the French tradition of allowing the remains of the harvest to the hungry and moves on to other objects deemed by society to be without value but used by artists in their creation.
Gardening
I'm sure there are many poets who garden and who love plants. Two local poets come to mind: Monty Reid who has a lovely garden in the East End of Ottawa. I've made zucchini bread from the zucchinis he was kind enough to give me. Conyer Clayton writes a lot about plants in her work and is vocal on social media about her dislike of celery. She also gardens.
Lilac from Undergrowth by Conyer Clayton (bird, buried press, 2018)
Monty Reid's book of garden poems, Garden (Chaudiere Books, 2014) features poem cycles as seasonal gardening units. In the notes, Monty writes that the book began as a simple gardening day book.
I read 10. June from the first cycle, "Garden (sept unit)"
Levin Hunting from The Quiet by Anne-Marie Turza (House of Anansi Press, 2014)
Wandering the City
Every spring I go on a wander to see the first blooms. I always get teary-eyed at the site of the first crocus. I revisit magnolia trees in my neighbourhood every year. I have a favourite on Gilmour. In November, I used to walk through the Beechwood Cemetery to enjoy the brilliant fall colours and scent of autumn. I sometimes take walks in the Central Experimental Farm's Arboretum as well. The city is full of green spaces, and perhaps now we see how necessary it is for people to be able get out in nature, to breathe and feel the sun.
Last May, I decided to go on an urban foraging walk with Foraged Ottawa' organizer, Bryan Dowkes. It was a lovely experience. The group learned about trout lilies, we got to sample his spring pesto, and have a bite of Japanese knotwood, which tastes a bit like rhubarb. I love walking and especially walking in nature, but as an urban resident with no car, I tend to forget that there are wild places near me. We walked about 4 kms from Strathcona Park to Hurdman on a trail near the highway, so we were surrounded by evidence of a city. It is possible to find wild within the city. I'm sharing links to my blog entry for the walk and also for Foraged Ottawa on FB and Meet Up
http://amandaearl.blogspot.com/2019/05/the-morel-of-story-urban-foraging-with.html
The year before a friend and I went on an herbal tea walk with the Ottawa Tea Guild at the Fletcher Wildlife Garden, which is part of Ottawa's Experimental Farm. The guide was herbalist, Amber Westfall of the Wild Garden, a local organization that introduces people to bioregional, edible and medicinal plans through workshops and walks.
She made us nettle tea, which we drank on a hot summer's day beneath the shade of a tree.
In its summer 2019 issue, Brick Magazine published an interview by Michael Ondaatje and Jason Logan, the founder of the Toronto Ink Company. https://brickmag.com/product/brick-103/
After reading this fascinating interview about making ink from natural and nonnatural sources, I obtained the book, "Make Ink: A Forager's Guide to Natural Inkmaking" by Jason Logan (Abrams Books, 2018). The book is full of colourful photos of plants, ink samples, recipes, anecdotes and instructions. It also includes the interview. In his introduction, Jason describes his practice as foraging for colour, which excited me greatly because I adore anything to do with colour.
"You don't need a huge national park to find natural color. Inkmaking supplies can be found anywhere plants grow. If you expand your palette to include industrial materials and ingredients from your own kitchen and grocery store, the possibilities become endless."
When I think a book will be of interest to both Charles and me, I read it aloud to him while he cooks breakfast for us on the weekends. This is one of the books I've read to him while he makes magical egg, bread, bacon or sausage concoctions.
https://torontoinkcompany.com/
Many years ago, Charles and I did a walking tour called The Secret Gardens of Sandy Hill, which was a lovely way to get to see gardens in the backyards of Sandy Hill residents. Often at the front of the residence, there was no way of knowing that a lush colourful garden existed.
This brings to mind Sandra Ridley's book "Post-Apothecary" which came out with Pedlar Press in 2011. It is an incantatory series of long poem sequences featuring a woman whose illness is used against her and the herbal concoctions that keep her docile and dozing.
I am about to brew some nettle tea and before I do, I will read you this excerpt from Witchipedia on its history and folklore.
I have yet to go on one of Jane's Walks. Jane Jacobs was a magnificent advocate for the creation and sustainment of the liveable city, integrated environments that prioritized people and the environment over cars and consumerism. Janes Walks take place all over North America in May, including Ottawa. This year, I suspect they will be cancelled, but let's all plan to attend one in the future. Jane's Walk Ottawa is planning to have their in-person festival in September: https://www.janeswalkottawa.ca/
For the Small Machine Talks, I wanted to start a series within the podcast that featured wandering about with writers. The first of the series was Episode 39 in Season 2 with Toronto poet, Jennifer LoveGrove. We wandered to various second hand clothing stores in Ottawa and enjoyed coffee and conversation at Art House on Somerset. I hope to do more of these types of episodes when the physical distancing requirement has been lifted.
I have a plan one day to visit Toronto again and walk through a ravine with writer and friend Amy Lavender Harris. Her book "Imagining Toronto" (Mansfield Press, 2010) is an exploration of Toronto as seen through fiction, poetry and essays. In a section entitled "The Poetics of Walking" which describes Toronto's contemporary culture of urban explorers, Amy quotes "Walking Off The Map," a 2006 essay by John Bentley Mays: "They are all walkers, and their tread along the city's streets is intent and focused. We see them moving at the pace of dowsers looking for streams buried beneath the pavement; and dowers they are, these seekers for the fugitive urban imaginary in the solid matter of the city."
Jane meets W.B. Yeats – Tanis MacDonald
Tanis MacDonald's book, Mobile (Book*Hug Press, 2019) is described as an "uncivil feminist reboot of Dennis Lee's Civil Elegies and Other Poems; an urban lament about female citizenship and urban culpability; an homage to working and walking women in a love/hate relationship with Toronto, its rivers and creeks, its sidewalks and parks, its history, misogyny and violence."
In her Notes on Section 2: Jane Walks, Tanis writes that it "picks up the many iterations of the Crazy Jane figure as written by many poets, but most specifically in eight poems by W.B. Yeats. In addition, this section takes as its guiding spirit, Jane Jacobs, the great urban critic who moved to Toronto in 1968 and lived in the Annex Neighbourhood from 1971 to 2006.
Jane meets W.B. Yeats is a rewrite of Yeats "Sailing to Byzantium."
Flaneur Magazine, Fragments of a Street, is a nomadic independent magazine, focussing on one street per issue. A friend who moved from Ottawa to Montreal introduced me to it. One issue focuses on Montreal's Rue Bernard with gorgeous, full colour photos of alleyways in the dark, lit by lampligt, poetic fragments of text about wandering, essays about people who live on Berard: barbers, immigrants from Kosovo, Portugal, photo essays with graffiti and fashionable people.
"The act of walking is the act of reflecting. The reflections of the street become fragments of an inner mirror – what seems like a logical linear collection of stones, asphalt and street signs is deconstructed through the mind." from Confessions by Richard Messner.
https://www.flaneur-magazine.com/
Cole Swensen's wonderful book response to various writers and philosophers, On Walking On is dog-eared to the max. The book was published by one of my favourite American publishers, Nightboat Books in 2017.
When I think of wandering and poetry, I also think of a friend and poet, Chris Turnbull's wonderful project Rout/e https://etuor.wordpress.com/. Rout/e has manifested in several iterations over the years but in some way always combines nature with poetry. In her 2015 essay published in AngelHousePress's essay series, Chris writes "a footpress I use to place poetry on trails, is formally a way of placing poems in the way of people. But not necessarily masses of people. And not necessarily — and no way to really find out — people who necessarily read poetry. Just people. People on ATV's, people on snowmobiles, people on skis, people in running shoes, hikers, rubber boots, snowshoes and on bike. The poems are also in the way of the various entities that are with us on trails, such as insects, birds, coyotes, foxes, bears, amphibians, plants (in no particular order). The poems are planted in places that they can be encountered — alongside marshlands, edging bridges, bordering "junk" people have dumped, alongside trees in groves — but not obviously. You could consider them another form of a 'nature note' — as if about to identify something local, naturalized, introduced, historical, absented, or, even, a perspective from a vantage point. Insects, birds, coyotes, foxes, bears, and plants move around, on, mark, and incorporate them into their travels as an ordinary thing, indistinct from anything else. People use the trails mostly for recreational activities and yet, most of the time, I don't encounter anyone else — just tracks: tires, footprints, skis, snowshoes, dog, racoon, snowshoe rabbit, squirrel, mouse, bear, fox, bird, deer."
I've included the link to the essay on the site: https://angelhousepress.com/essays/Chris_Turnbull_rout_e.pdf
John Thomson, Stilt Jack
Nothing made me want to chase storms and sex, hedonism and the wild, wander through tangled gardens and drink whisky more than John Thompson's ghazals, Stilt Jack. The book was rereleased by House of Anansi in 2019. The poems are such a compelling combination of the still and the wild. I read XVI
To close I will leave you with one of my favourite poems, Irises by Li-Young Lee, which I'm reading from in A Book of Luminous Things, An International Anthology of Poetry, Czeslaw Milosz, Ed. 1996
Consider this Earth, the first of the four elements, I hope to be discussing in subsequent months.
Here's a 57-song playlist to go with the episode
Additional Resources
My ever blooming list of garden-related films: https://letterboxd.com/amandaearl/list/i-need-to-start-a-garden/
My list of bicycle and women films: https://letterboxd.com/amandaearl/list/bicycles-feminism/
The Feminist History of Bicycles https://www.bustle.com/p/the-feminist-history-of-bicycles-57455
Shawna Lemay's wonderful Transactions with Beauty blog
http://transactionswithbeauty.com/
http://rainycafe.com/ to listen to the sounds of people in a café, or the rain.
the sounds of a summer forest https://forest.ambient-mixer.com/summer-forest
For the Love of Trees, A Guide to the Trees of Ottawa's Central Experimental Farm Arboretum (General Store Publishing House, 2007)
From Walk Ups to High-Rise, Ottawa's Historic Apartment Buildings (Heritage Ottawa, 2017)
Jane Jacobs, The Life and Death of Great American Cities (Vintage Books, Random House, 1992)
Thanks to Charles for processing the recording, thanks to Jennifer Pederson for the intro and outro, thanks to all the poets, musicians, artists, film makers, directors and actors, living and dead who contributed to this episode and thanks to you for listening.
Stay tuned for the next episode in May. I'm not sure what it will be yet, but I'm hoping to post it at the end of the month.